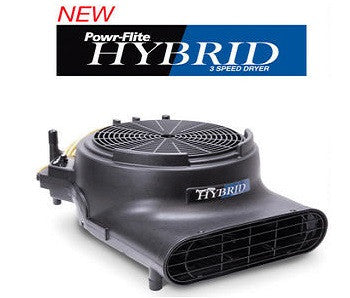 Powr-Flite PDH1 Hybrid 3-Speed Blower
Powr-Flite PDH1 Hybrid 3-Speed Blower
(3400 CFM @ 2.4 Amps vs. 2200 CFM Standard Blower)

Powr-Flite PDH1 Hybrid 3-Speed Blower Spec Sheet
Powr-Flite PDH1 Hybrid 3-Speed Blower User-Guide

Video: Powr-Flite Hybrid 3-Speed Carpet Dryer Features

Video: Powr-Flite Engineers Take Hybrid Dryer Testing Way Too Far

The new Powr-Flite Hybrid dryer combines the best features of a squirrel cage design with the increased drying power of an axial fan. Leveraging state-of-the-art engineering, this dryer has an incredible maximum air velocity of 3400 feet per minute in a compact, yet highly efficient size. Carpets dry quickly under the high-volume, high-velocity airflow. Long-lasting and durable, the Hybrid dryer is built with heavy duty, co-polymer polypropylene to withstand the tough, every-day use of contract cleaners, restoration professionals and more.

The revolutionary Powr-Flite Hybrid dryer increases air-flow, drying efficiency, safety and minimizes down time in a room or larger facility.
* Innovative go anywhere design
 
* Maximum running amp draw of 2.8 amps - no more overloaded, blow circuits
 
* Highly portable - weights 45% less than a typical blower 
 
* Smaller, compact size at only 11.5" high makes it easy to transport or store more dryers in less space
Max Air Flow
Motor /Motor Rating
Stackable
Voltage/ Power Cord
Drying Positions
LxWxH
Weight
(lbs.)
Speeds
Housing

3400 FPM

.4 hp/
Continuous Duty

Yes
120V
20' - 18/3
2
22"x16.5"x11.5"
18
3
Co-Polymer polypropylene
---
---
More from this collection