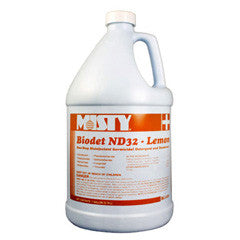 Misty Biodet ND32 Disinfectant, Lemon Scent
Misty Biodet ND32 Disinfectant, Lemon Scent (Gallon)
Misty-Biodet-ND32-Disinfectant-Lemon-Scent-SDS
| | |
| --- | --- |
| . | Hospital Use Disinfectant Cleaner & Deodorant |
| . | Quat-Based Germicide; Neutral pH |
| . | Effective Against MRSA, CA-MRSA, VISA, VRE, HBV, HCV, HIV-1 & More* |
* See label for complete list of pathogens
This product disinfects, cleans and deodorizes in one labor-saving step. This multi-purpose, neutral pH, germicidal detergent, and deodorant is effective in hard water up to 400 ppm (calculated as CaCO3) in the presence of a moderate amount of soil (5% organic serum) according to the AOAC Use-dilution Test.

Recommended for use in hospitals, nursing homes, schools, colleges, commercial and industrial institutions, office buildings, veterinary clinics, animal life science laboratories, zoos, federally inspected meat and poultry establishments, equine farms, tack shops, pet shops, airports, kennels, hotels, motels, poultry farms, turkey farms, dairy farms, hog farms, breeding establishments, grooming establishments, and households.

Disinfects, cleans, and deodorizes most hard, nonporous, inanimate surfaces. 
---
---
More from this collection